Modern governance
requires agility
Our world is changing at a rapid pace. So, as the leading standards authority for responsible jewellery, the RJC seeks to ensure transparent, representative and appropriate governance for its entire membership.
The Responsible Jewellery Council (RJC) is the trading name of the Council for Responsible Jewellery Practices Ltd. We are a registered not-for-profit (NFP) company with our headquarters registered in the UK. The RJC is governed by a Board of Directors and an Executive Committee. The day-to-day management is delegated to a Senior Management Team headed by an Executive Director.
A clear and elegant governance framework ensures operational integrity and maximises impact. The RJC Governance Model helps us to ensure all members are represented and our attention remains focused on the issues that matter most.
AGM and Annual Conference
Without our members change would be impossible. The RJC Annual Conference and AGM are held every May to provide members and stakeholders, throughout the entire value chain, an opportunity to contribute towards the future direction of the RJC.
We were joined by leaders across the jewellery industry on 20 May, 2020 as the RJC hosted a webinar titled 'Responsibility: a critical enabler of survival in a crisis'.
The webinar was watched by more than 400 attendees from around the globe – we would like to thank our speakers, attendees, and members who engaged in the discussion through the Q&A session.
The live discussion explored the challenges and opportunities arising from this current global pandemic – and how businesses can work together, strengthen supply chains, and look to rebuild in a post COVID-19 world.
If you were unable to tune in live or would like to watch again, please find the webinar recording below. Feel free to share the link.
Presentations and Minutes from Previous AGMs
Board & Committee Members
We thank our Board and Committee members, past and present, for the efforts and valuable perspective they have contributed to our mission. Full details on how officers and members of the Board and Committees are appointed can be found in the RJC Governance Handbook. Below is a list of officers and members who are currently serving on the Board and Committees.
Chair and Executive Director
David Bouffard
Chair, Board of Directors
Melanie Grant
Executive Director
RJC Board of Directors - Officers and Members
Chair: David Bouffard (Signet Jewelers Ltd)
Vice Chair: Edward Asscher
Honorary Treasurer

: Feriel Zerouki (De Beers Group)

Stephen Lussier (De Beers Group)

Alok Kumbhat (Jewelex India Pvt Ltd – Diamond Division)

Didier Backaert (Bonas & Co.)
Philipp Reisert (C. Hafner GmbH + Co. KG)
Ivana Ciabatti (Italpreziosi S.p.A)
Punit Mehta (DNJ Creation)
Deborah Azar (Gemological Science International)
Gaetano Cavalieri (CIBJO)
Michael Lerche (The Plumb Club)
Raj Kumar Jain (Gemstones Corporation)
Ankur Goyal (MMTC-PAMP)
Arien Gessner (Richline Group)
Roger Forman (Marathon Company)
Pravin Pattni (Minar Jewellers)
Satta Matturi (Matturi Fine Jewellery)
Bernadette Pinet Couq (BJOP)
Marianne Zani (Chanel)
Chair: David Bouffard (Signet Jewelers Ltd)
Vice Chair: Edward Asscher
Honorary Treasurer

: Feriel Zerouki (De Beers Group)

Jon Phillips (Corona Jewellery Company)
Ainsley Butler (Building Markets)
Purvi Shah (De Beers Group)
Chair: Jon Phillips (Corona Jewellery Company)
Eyal Atzmon (EL-RAN bvba)
Adriaan Olivier (Signet Jewelers Limited)
Anne Nistad, Expert (ASI)
Ana Garzón, Expert (Textile Exchange)
Joint-Chair (Industry): Purvi Shah (De Beers Group)
Joint-Chair (Non-industry): Ainsley Butler (Building Markets)
Didier Backaert (Bonas & Co)

Noora Jamsheer (Danat)
Tehmasp Printer (International Gemological Institute (IGI) India Pvt.Ltd.)
Trisevgeni Stavropoulos (Antwerp World Diamond Centre)
Ilan Keplan (International Diamond Manufacturers Association IDMA)
Coline Lemaitre (SAAMP)
Marie-Charlotte Druesne Chancogne (Chanel)
Joelle Ponnelle (Donze Baume)
Sabrina Karib, Argor-Heraeus SA
Jennifer Hillard (Canadian Diamond Code of Conduct / Consumer Interest Alliance Inc)
Dr. Laurant Massi (Independent consultant)
Sara Yood (Jewelers Vigilance Committee, JVC)
Pippa Howard (Flaura & Fauna International)
Salah Husseini (BSR)
Directors' Annual Reports & Financial Statements
The purpose of these reports is to provide clear and coherent information about the company's activities, performance and position. It is a mandatory financial document that is filed each year.
The Council for Responsible Jewellery Practices is a private company limited by guarantee with no share capital under the UK Companies Act. It is registered in England and Wales with company number 05449042. In October 2008, the Council adopted the trading name of the Responsible Jewellery Council.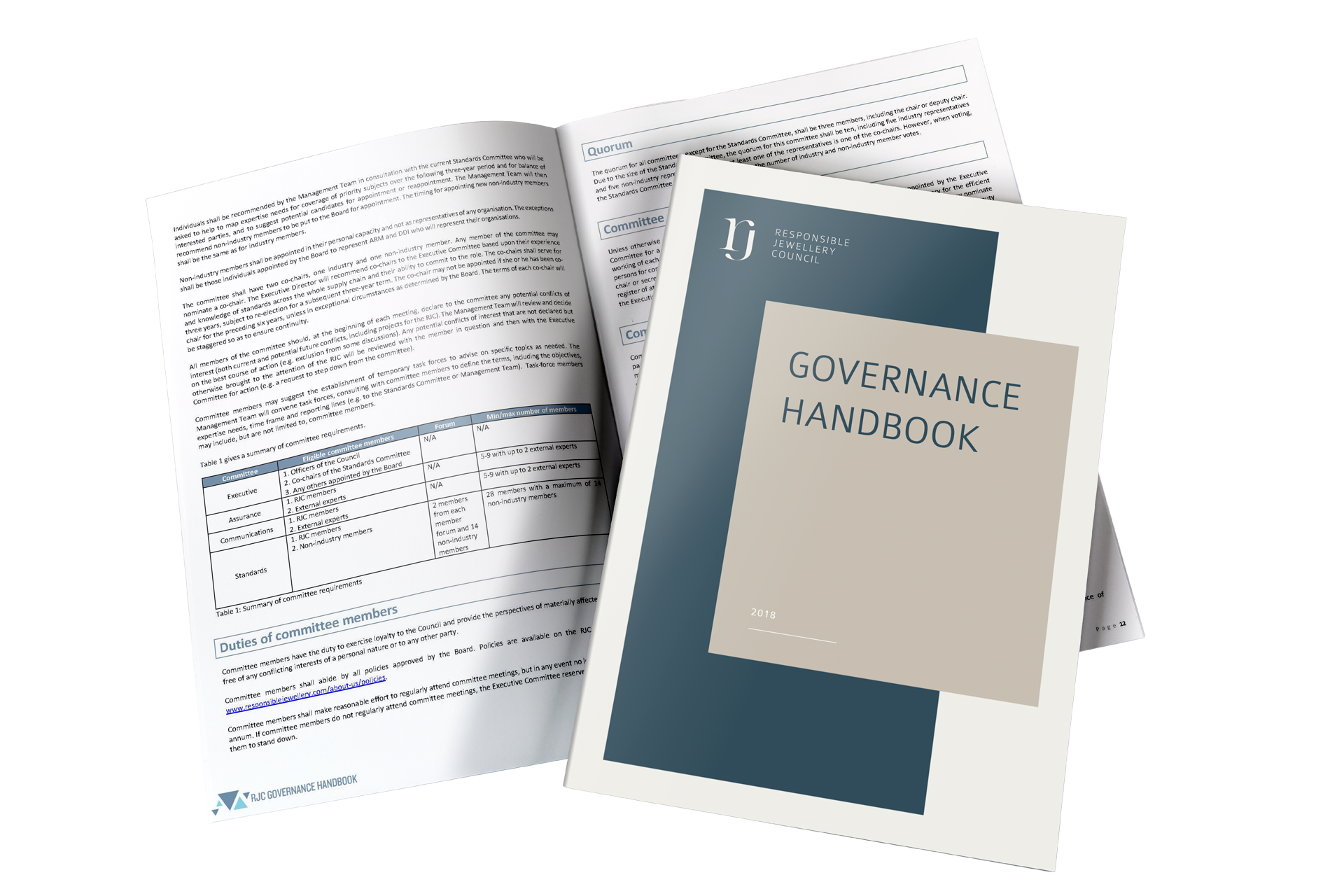 Easy to understand, easy to lead.
The RJC Governance Handbook provides clear guidance on how we operate in a way which is easy to understand and apply. It includes how the organisation is funded, how decisions are made, and how to investigate complaints concerning the behaviour of members.